Slow cooker recipes are some of the most popular because they're convenient. You can leave the crock pot running and come home to a dinner that's ready to eat! These are set it and forget it recipes that cook delicious sauces into your favorite cuts of meat.
Last week, we went over Light Recipes for Post Easter Feasting. This week we're looking at some protein filled meals made in your trusted crock pot. Crock pot meals are great for creating on a Sunday afternoon, because you can pack the leftovers into lunch sized portions for the rest of the week. Or, start a crock pot meal in the morning and enjoy it when you get home from your busy day. Crock pot meals also deliver large portions, which is perfect for a family or someone who doesn't like to cook every day.
Slow Cooker French Dip Sammies
This delicious looking sandwich comes from Shugary Sweets, written by Aimee. This recipe includes five pounds of beef rump roast, grill seasoning, garlic, onion powder, minced onion, beef stock, beef bouillon, garlic, pepper and 12 ounces of dark beer.
Throw these ingredients in the crock pot for eight hours. When done, slice or shred the meat and strain the au jus. Enjoy on French bread with your favorite cheese.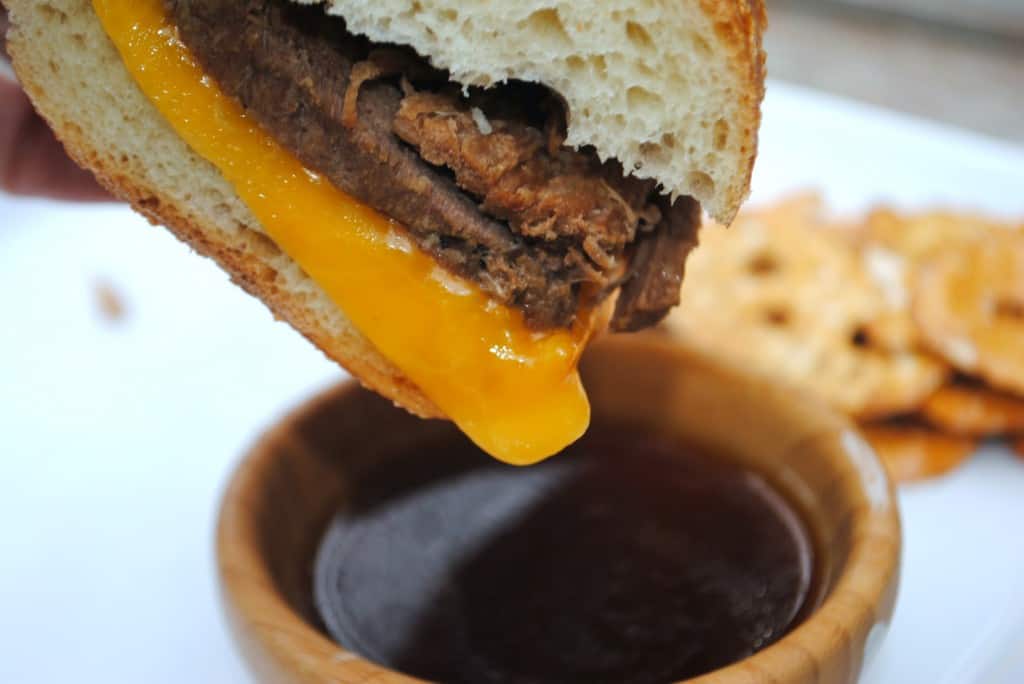 Photo & Recipe from: http://www.shugarysweets.com/2011/10/slow-cooker-french-dip-sammies
Slow Cooker Dr. Pepper Pulled Pork
This fun and creative recipe comes from CincyShopper.com, written by Jen. This is a great food blog for those looking for affordable recipes. For this recipe, you will need to cook three to four pounds of pork loin roast, barbeque sauce, pork rub, and of course, Dr. Pepper for ten to 12 hours. Sodas and beer add an interesting flavor to meat. Try this recipe while drinking a bottle of cold Dr. Pepper. You can add a side of fries, vegetables, coleslaw, or whatever you're in the mood for.
Photo & Recipe from: http://cincyshopper.com/slow-cooker-dr-pepper-pulled-pork/
Slow Cooker Teriyaki Chicken
This amazing looking chicken recipe is from Gimme Some Oven, created by Bet, Liz, Sarah and Ali. This chicken is cooked for four to five hours in a homemade teriyaki sauce. The ingredients include rice wine vinegar, soy sauce, honey, onion, ginger, garlic, pepper, water, cornstarch and boneless chicken breasts.
When the chicken is done, remove the sauce and add corn starch. You can then pour it back on the chicken. Gimme Some Oven has some great recommendations for creating sliders with red cabbage and green onion. You can also make sandwiches or eat it on rice or quinoa.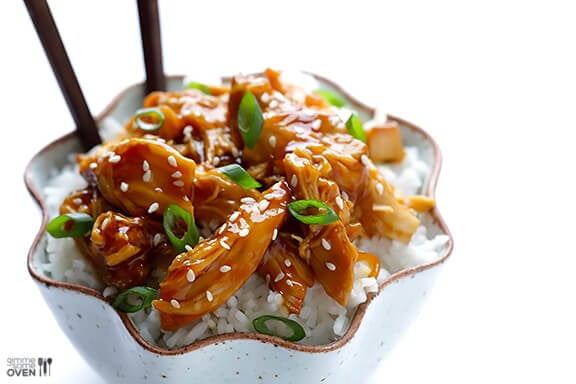 Photo & Recipe from: http://www.gimmesomeoven.com/slow-cooker-teriyaki-chicken-teriyaki/
Crock pots are great tools to have in the kitchen. You can use them for endless ideas, including desserts. Try using it to roast a whole chicken or to create vegetarian soups. Have fun!