There are many pros to living in small homes; small homes generally require less upkeep and maintenance. However, when it comes to storage and clutter, many of us struggle with day-to-day life in small spaces. Using some ingenuity and know-how, you can help make your small kitchen feel larger. Manipulate design elements, add more storage and dive into some DIY projects to make using your small kitchen more pleasant and easier.
For additional advice for life in a small kitchen, check out our previous blog posts here: Small Kitchen Ideas and Tips for Organizing a Small Kitchen.
DESIGN ELEMENTS: Use some design tips to make your kitchen feel bigger, even though it's exactly the same dimensions it's always been.
Mirrors: Place mirrors throughout the room to make the space feel larger. Surfaces and objects are reflected back in the mirror, which creates the illusion of a bigger space to the viewers.
Wallpaper: Use a fun, bold wallpaper to add texture to the room. Also, putting wallpaper on one accent wall in a dark or a bold color will help make the room feel wider.
Glass: Glass makes spaces feel bigger because you can see through it to other rooms and areas. Great glass options for small kitchens include glass walls, glass doors that lead to other rooms or the yard, glass tile, glass cabinets and glass counters.
Photo Credit: http://www.housebeautiful.com/room-decorating/kitchens/g394/small-kitchens/?slide=4
Pot Rack: Replace a kitchen cabinet with a pot rack to make the space feel open and airy.
Lighting: A small space with no light feels much duller and smaller than a space with great task lighting. Remember to install task lighting and pendant lighting in your kitchen.
Colors: Don't be afraid to let your style shine by using daring colors. Colors make the space more interesting and draw attention away from the dimensions of the room.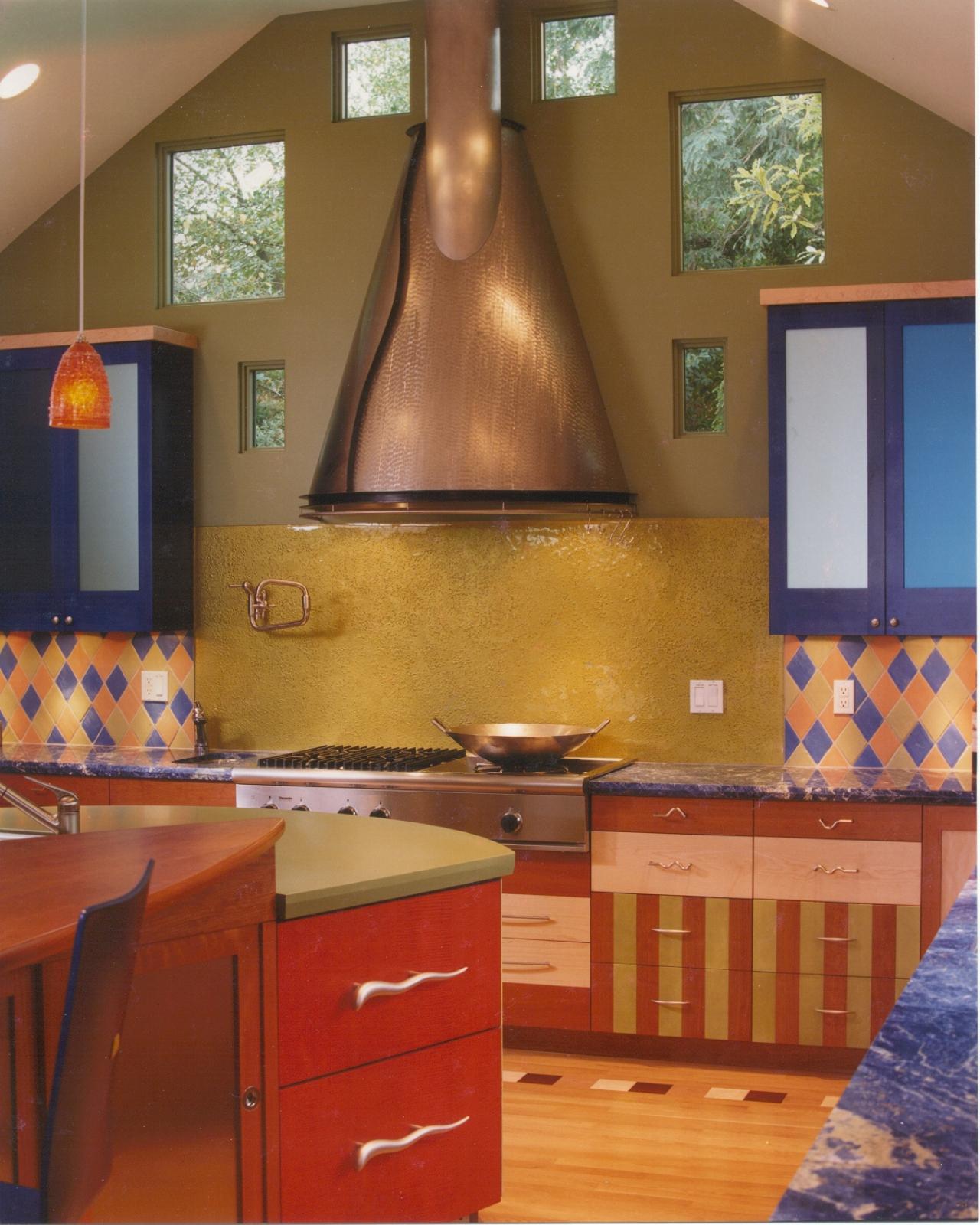 Photo Credit: http://www.hgtv.com/design/rooms/kitchens/small-kitchens-8-design-ideas-to-try-pictures
DIY PROJECTS & STORAGE: Use your creativity and DIY skills to create more storage in your kitchen. These projects will help cut down on clutter in small kitchen.
Magnetic Spice Bottles: Free up space by creating a magnetic spice rack that will keep your spices off of the kitchen counter. The magnetic spice bottles pictured below come from the blog Amy Bites. In this project, the bottles attach to a wall-mounted, metal base. However, you can also use magnets to attach the bottles to the side of your fridge.
Photo Credit: http://www.amybites.com/?p=2775
Rolling Shelves under the Sink: Make the most you can out of the existing storage space in the kitchen. This DIY project allows you to pull out shelves in the cabinets. This way you can fit more items in the same space and they're easier to reach.
Curtain Rod: Place an extendable curtain rod in the kitchen cabinet to hold the lids to your cooking pots. Now they won't scatter all over the place.
File Holder: Store your baking sheets and cutting boards in a file holder. This keeps things neat and easy to find.
Photo Credit: http://www.shanty-2-chic.com/2014/08/diy-murphy-desk.html
Murphy Table: Don't have space for a dining room? Try your hand at creating a Murphy table in your small kitchen. Now you can sit down to enjoy breakfast and put the table back up when it's not in use. The example below comes from the blog Shanty 2 Chic.
We hope these tips and tricks help you become more comfortable in your small kitchen. If you have more ideas for small kitchens, feel free to share them with us.