Why do you need an efficient layout for your kitchen? Designing your kitchen with an efficient layout in mind ensures that you can use your kitchen to its maximum potential and save as much time as possible while preparing and cooking food. While working on your kitchen, don't forget to read our infographic Choosing Range Hoods for Kitchen Size for assistance in picking out a kitchen range hood.
There are different templates for kitchen design available to you depending on the floor plan of your kitchen and how you prefer to have everything spaced out. Choosing a layout that fits into the kitchen floor plan you already have will be more economical, because moving pipes and running electrical will be costly and time consuming.
The first thing to consider while laying out a kitchen is the work triangle. The work triangle is the placement of the cooking surface, the kitchen sink and the fridge. If you draw a line between these elements, the resulting shape will be a triangle. This is the most efficient way to place these zones in the kitchen. Ideally, there will be work spaces wherever possible between the points of the triangle.
Kitchen Layouts
These traditional kitchen layouts can help guide you through your kitchen design. Choose the layout that best fits your kitchen.
L-shaped: This kitchen layout consists of two countertops on connecting walls that form the shape of the letter "L."
L-Shaped Kitchen via deHouss
Horseshoe: A horseshoe kitchen has three walls on which kitchen elements are placed. An L-shaped kitchen with the addition of an island is also considered a horseshoe kitchen.
Horseshoe Kitchen via HGTV
One-wall: These kitchens are simple and efficient with everything located on one wall. This layout is a good choice for smaller homes and kitchens.
One-wall Kitchen via Kitchen Appliance Reviews
Galley: A galley kitchen is another layout that works well in smaller homes. It consists of two walls or two countertops on each side of each other.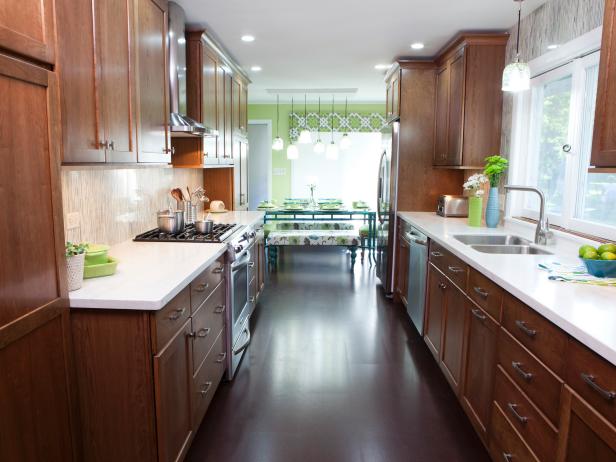 Galley Kitchen via HGTV
Once you have determined which kitchen layout you have, or will have in the future, you can start to layout an efficient kitchen design.
Another way to make a kitchen more efficient is the addition of a kitchen island, if the kitchen is large enough to support one. The island can function as one of the points of the work triangle.
Kitchen islands are practical and provide many functions. They provide extra work surface and storage space. You can also install a stovetop and oven into the kitchen island, as well as a sink for washing food and filling pots. A kitchen island with wheels is great; you can move it around where you need it, when you need it.
Which kitchen layout do you prefer? Do you prefer that layout because of efficiency or because of aesthetics? Feel free to let us know!
Range Hoods Inc is an online retailer of stainless steel kitchen range hoods. Feel free to contact us with your questions about kitchen design and kitchen appliances at 1-800-914-9775. We are available seven days a week.