Are you in the middle of upgrading your kitchen? Perhaps it's time for a new look for that kitchen backsplash. This can be especially true if you've just moved into a new home and you want to make the kitchen feel personal and make it feel like your own. A great way to update your kitchen backsplash would be to upcycle one. Before you get started, you may want to check out our recent blog post Making an Old Kitchen Look New.
What is Upcycling?
Upcycling is using something that otherwise would be thrown away. Upcycling can be a fun and crafty way of repurposing objects you already have in your home or at your disposal.
What is a Kitchen Backsplash?
A kitchen backsplash is the space on the wall above the kitchen counter. The backsplash is commonly constructed out of the same material as the kitchen counters. Popular backsplash materials include marble, stainless steel, tile and tile mosaics. Note that the portion of the backsplash above the range can become a big focal point in the kitchen design. Do not neglect the chance to personalize this part of your kitchen!
Reasons to Install an Upcycled Backsplash
Upcycling a backsplash is a great and fun way to save money while remodeling your kitchen. Upcycling involves recycling everyday items into unique and personal projects. An upcycled backsplash will be more personal and will give your kitchen a distinct look that you won't see anywhere else. If you're an experienced DIYer, then upcycling a backsplash is the right project for you.
Ways to Upcycle a Backsplash
The possibilities are really endless when it comes to choices for upcycling a kitchen backsplash. The following are some trending ideas for upcycled backsplashes in kitchen design:
Place Mats
This upcycling project by Lilybee on Curbly is the perfect project to spruce up a rental kitchen. Lilybee put this together with placemats she found at the dollar store and some thumb tacks. She lined up the placemats in a repeating pattern she was happy with and tacked them up. This is faster than installing tile, it's less messy than tiling and it's unbelievable how little this project costs. Plus, the placemats can be taken down and washed by hand.
http://www.curbly.com/users/lilybee/posts/7875-the-dollar-store-rental-kitchen-makeover-again
Bottle Caps
Are you a lover of craft beer and/or vintage soda? You can show off your bottle cap collection with a special backsplash project. Once you have enough bottle caps to create an entire backsplash, cover the backsplash in tile mastic. Place bottle caps on the backsplash in the pattern of your choosing. After it dries, grout the backsplash the same way you would if you were tiling it. This backsplash is now a personal mosaic of your favorite drinks.
http://www.apartmenttherapy.com/love-beer-create-a-bottle-cap-161332
Pennies
Pennies may not be what first comes to mind when you're redoing your backsplash, but they do create an amazing effect when placed into a pattern on the wall. It will take about 6,000 pennies to cover the average kitchen backsplash. The light reflects off of the pennies and creates a lovely, copper glow. You can also arrange the pennies in different patterns to create different aesthetics.
First, shine the pennies with tarnish remover. Rinse them and allow them to dry. Purchase clear mosaic mounting sheets sized to your backsplash. Arrange the pennies on the mounting sheet. Lay tile mastic on the backsplash and apply the mounting sheets. Remove the sheets and grout the pennies after the mastic dries. Wipe off any extra grout and shine the pennies. Seal the backsplash, and enjoy the new addition to your kitchen décor.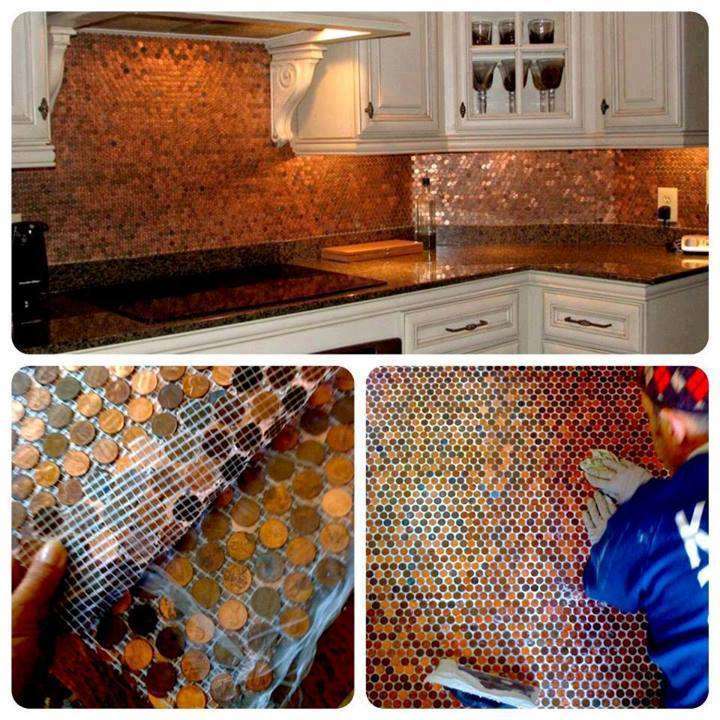 http://www.amazinginteriordesign.com/diy-penny-back-splash/
Maps
You can repurpose some maps or some vintage posters with this backsplash project from the DIY Network. This project is actually a lot easier than it looks. You will first create a template of your backsplash using paper and luan panel. The maps are cut to fit the luan panel with one extra inch around and are mounted with spray glue. The luan panel is placed on the backsplash and secured with drywall screws. Make sure the drywall screws are attached to studs in the wall. You will now have a fun and unique kitchen backsplash. Perhaps it will inspire you to travel and think of far off destinations as you prepare your meals at home.
You could repurpose this DIY project to create a backsplash with a decoupage design or create a collage out of comic book covers, gift cards, movie posters, vintage wine labels or whatever your heart desires.
http://www.diynetwork.com/kitchen/budget-backsplash-project-global-style-maps/index.html
Reclaimed wood
Repurpose wood to give it new life and to make your kitchen look fabulous. Dana and Ryan of the blog Circa Dee created a beautiful, rustic backsplash out of old shipping pallet wood. To create this kitchen backsplash look, they took apart the pallet and cut it into 18 inch pieces. Dana then washed the wood, and Ryan secured it to the backsplash using liquid nails. They made sure to place the wood pieces into a pleasing pattern by alternating the light and dark pieces across the backsplash. Dana and Ryan obtained this pallet wood for free! If you try this project, just be sure to choose wood that has been treated to keep your kitchen a safe place, especially if food may be touching it while you are cooking. You can also treat and seal the wood if you do a lot of frying in your kitchen.
http://circadee.com/2012/02/03/backsplash-follow-up-part-2-pallet-wood/
Wine Corks
The creation of the kitchen backsplash below was documented by Jill Fritz on the blog Create.Craft.Love. This is the perfect backsplash for DIYers and wine lovers. Jill estimates that 800 wine corks were used in this backsplash in her sister's small kitchen. Her sister collected wine corks from family, friends and local restaurants. They also created a formula to estimate how many wine corks will be needed for your backsplash. Alternatively, you could just decorate the portion of your backsplash above the range with wine corks for a design focal point in your kitchen.
Jill's family used a scroll saw to cut each wine cork in half. The wine corks were then placed in a basket weave pattern on top of a plywood template that was sized to the backsplash. Remember to leave holes for your kitchen outlets. They secured the wine corks using contact cement and hid the edges of the plywood by notching the wine corks on the border of the template. They also sealed the wine corks with a clear spray sealant. Lastly, they used caulk to make the wine cork backsplash water-tight.
http://www.createcraftlove.com/2013/04/diy-wine-cork-backsplash.html
Other Ideas for Backsplashes
-Cover the backsplash in picture frames.
-Create a backsplash out of rocks and stones from your adventures and walks on the beach.
-Use mirrors to cover the backsplash in a fun, reflective surface.
-Place a family memento above the range on the backsplash.
-Update the look of your backsplash inexpensively by decorating the existing tile. You can paint the tile or buy tile decals for decorating it.
-Purchase removable wallpaper and cover your backsplash with it.
-Create a template and lay down some fabric for a fun backsplash design.
-Paint your backsplash with chalkboard paint.
-Mount a magnetic sheet of metal for a backsplash and you can post recipes and lists on the backsplash. You could even store magnetic bottles of spices or other kitchen equipment on your magnetic backsplash.
Upcycled backsplashes can be fun DIY projects that are inexpensive and result in a beautiful and personalized backsplash for your family to enjoy for years to come. If you have successfully upcycled your backsplash, please share your photos!