Right now, during the warm summer months, you're probably thinking about every way you can keep your kitchen cool. However, you may also want to consider how to update your kitchen before winter arrives. The summer season is an excellent time to gear up for winter and get your home ready for those chilly days before they happen.
@rangehoodsinc via Instagram
It's also a convenient time for home improvement projects in the kitchen, because you can still grill outside temporarily if you cannot use your kitchen appliances. Cook your food outdoors in the fresh air, so you don't have to worry about having to cook all of your meals in the microwave or the toaster oven. This is especially helpful if you are feeding multiple members of your family at once.
The following are some home improvement projects to consider starting before winter comes:
Heating Flooring – Heated flooring can be installed underneath any type of flooring in the home. Heated flooring is a perfect addition before the winter months so you can walk around in your kitchen and feel less cold. Be more comfortable in your kitchen next winter with a new heated flooring system.
Update the Backsplash – Take the time this summer to improve your kitchen backsplash. Tile Talks recently published Tile Tips for an Eye-Catching Backsplash. You can reference their post for more ideas for tile designs and updating your backsplash.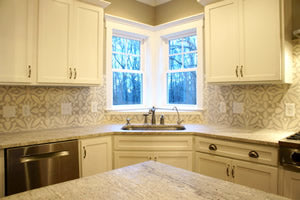 Photo Credit: http://www.aventetiletalk.com/2015/07/tile-tips-for-eye-catching-backsplash.html
Go Bigger – Do some construction to create a bigger kitchen for you and your family. One of the biggest complaints homeowners and renters have about their kitchens is the lack of space. More space will provide additional storage, workspace and space for family to sit and eat together.
Add a Range Hood – Do you have proper indoor air ventilation in your kitchen? If not, you can purchase a kitchen range hood to install during your summer home remodeling projects. The range hood will ventilate grease, smoke, odors and heat from the kitchen to make cooking more convenient and cleaner.
Cavaliere B02CL-30″ Wall Mount Range Hood
Other ideas to consider for installation during the summer include:
-A fireplace near the kitchen to keep people warm and comfortable while they are eating together.
-Purchase and install a larger freezer to store food in before winter hits. Buying and freezing food in bulk also helps save money on groceries.
-Install a pot rack in your kitchen. You can store pots and pans on it and free up space in your kitchen cabinets.
-Repaint your kitchen before the holidays and impress your friends and family with the fresh coat of paint on the walls.
-Replace any large kitchen appliances that may need updating while you are already making improvements and cooking outside.
If you'd like to improve your kitchen before winter comes, feel free to call Range Hoods Inc at 1-800-914-9775. We are available seven days a week to discuss stainless steel kitchen range hood sand your home improvement needs.